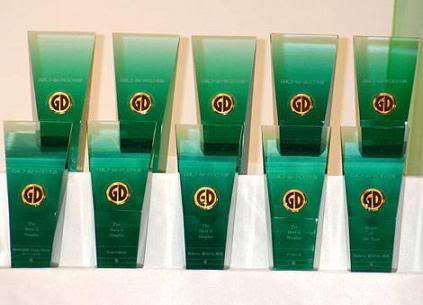 The 24th Japan Gold Disc Awards were held in Japan on the 24th. And a good chunk of the awards were given to idols.

KAT-TUN's Rescue single won for the totally Johnny's dominated category of 5 Best Singles. Even though this was KAT-TUN's only win for the night, it's still pretty exciting. I love Rescue but I had no idea it was popular enough to win for best single. Shows what I know.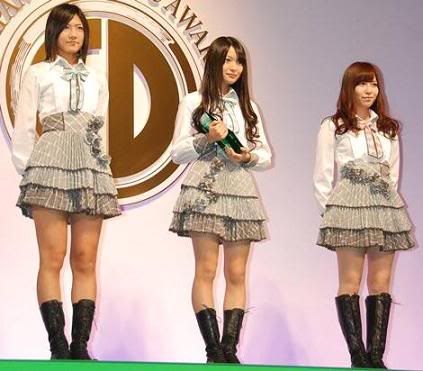 AKB48 also won a special award. I'm not exactly sure what the special award pertains to, or even if AKB48 deserved it. But they won it regardless.
And the most undeserving award goes to Mano Erina. She won for 5 best new artists at this years award. This is exciting news for ManoEri to be really popular and being recognized in Japan. But I gotta say I don't think she deserves this at all. Some of her songs are catchy and are growing on me, so I get the hype. But Erina isn't exactly the best singer in the world. In fact she can barely sing at all. It's cool that an H!P artist is getting this award, but it would be cooler if it was an H!P artist who deserved it. I know this awards are based on sales and she only won because she sells well. I don't know, it just doesn't sit right with me.
But the overall winners of these awards was Arashi. The won an astonishing 10 awards! Best new artist, Album of the year: All the best! 1999-2009, Single of the year: Believe/Kumorinochi, Kaisei, 5 Best Albums : All the Best! 1999-2009, 5 Best Singles: Ashita no Kioku/Crazy Moon ~Kimi wa Muteki~, 5 Best Singles: Everything, 5 Best Singles: Believe/Kumorinochi, Kaisei, 5 Best Singles: My Girl, Best DVD: Arashi Around Asia 2008 in Tokyo, Best DVD: 5x10 All the Best! CLlips 1999-2009.
It is absolutely incredible that Arashi won 4/5 of the years best singles. Japan's love for Arashi never ceases to amaze me. Believe and Crazy Moon were really great songs, totally deserving of being part of the best singles.