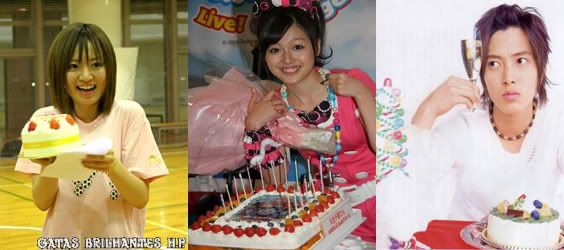 That's right Janakya Mottainai turns one years old today. Well today's not the exact date I created my blog, it's just the anniversary of the first actual blogging post I made. My first post was an introduction post, and I didn't make a second post until about 2 months later. ._.

My blog has changed a lot in the year I've been doing it, as I mentioned in my
5,000 views post
. So, let's look at all the snazzy things that have happened to my blog over the past year.


Jelly_Man @
H!P related JM's blog
was the first person to put my blog link on their blog.

I was actually really excited about that. My first reaction was, "OMG, someone out there likes my blog enough to link it on their page!" Yeah it doesn't really take that much to make me happy. XD
Since then a lot of other awesome blogs have linked me. Most of which you can find on my blog roll.
My blog was also featured on
International Wota
.




This was the first and only time my blog was featured on International Wota, but I'm still pretty ecstatic to have been featured at all. When I first made my blog it was my goal to be featured on that site. Though I kind of wish I was featured for something other than Yamapi, since I don't cover JE news often.

I also have my first affiliate
Jiriri Kiteru
.



Which is pretty awesome! I never really planned on having affiliates, but when her site was asking for them I decided to be one. I didn't even have an affiliate graphic, so I had to make one. Which took a grand total of 2 minutes. ;]
Since most people haven't seen my affiliate picture here it is.


Simple graphics are pretty much all I can do. :/ And of course it had to feature Koha. I also wanted to change this up and put Janakya Mottainai in Japanese.

My blog also has over 11,000 views, and it averages about 100 views a day. That's not really that many views compared to a lot of other H!P/Jmusic blogs out there. But I think pretty much amazing. Especially since the quality of my posts are sometimes iffy.


Anyway, thanks to everyone who reads my blog. If I didn't have people reading or supporting my blog, I probably would have stopped a long time ago.
And comments are of course welcomed and loved. I respond to just about every comment I get. I've actually been getting a lot more comments lately, which I'm pretty happy about. But I can't really tell if it's because they want to or because in every random blog post I mention wanting feedback from people. Either way I appreciate it. ^^

One more piece of random blog news. If anyone out there in blog land wants to affiliate with my blog, just ask me. I guess you can comment about it on this post, since I don't have any other formal way of going about it. Eventually I might make a contact section on my blog, but as of right now I have no idea how to do that. XD