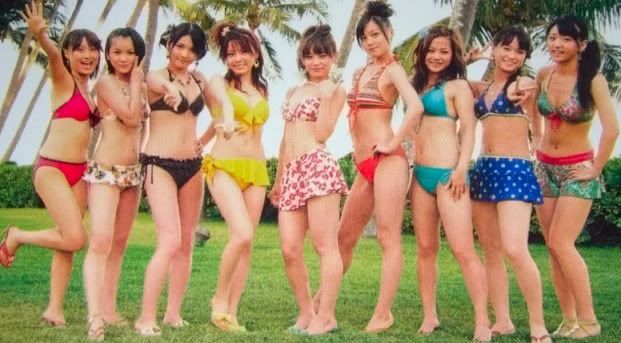 So, I wrote this blog post mid April, right after I got my JE calendars and expected to make this post shortly after. However, everything always gets pushed back. But regardless of when I made this post, I really wanted to make it to get all this frustration off my chest. It's just basically what I go through and feel on a day to day basis, just from being an idol fan. I also hope that in some small way people will relate to this post.
But anyway, disclaimer over and on to the real post.
I'm sure everyone out there who is a fan of idol music has faced some sort of judgment or mocking for liking idols. Especially the fans that live outside of Asia. Since wota are usually around 30 years old, I'm sure lots of people would question why someone that age listens to teenage girls singing about love. Or question if liking idol music is as innocent as it seems. But since I'm not a 30 year old man, and never will be, I of course can't say for sure every fan has experienced or will experience this. But one can assume this is how people would react if they have no idea what idols are.
However, if a male fan were to like an idol group like AKB48 or SDN48 I'm sure people would react differently. Since both groups take a lot of revealing and sexy photos, people would understand the appeal more and accept it more. Even if they didn't accept it they would at least understand it better.
And because of that male idol fans have it much easier than us female fans. I never really realized just how hard it is for a female fan until recently. I found out because as I started to get idol merchandise, and my family became more aware of idols as a whole, they have voiced their opinions on it several times. And I found myself not only being slightly ashamed and embarrassed, but also pretty angry. There seems to be a real stigma for being a fan of idol music. And that stigma is even greater for female fans.
As a female fan I think there's a stigma right off the bat for being a female idol fan because apparently by default if I'm listening to a female singer I have to have the hots for them, or I wouldn't listen to them. Which is absolutely ridiculous because no one would assume that if I was listening to an American female group. I think that logic stems from 2 reasons. The first being, I'm choosing to listen to that type of music. I would have a lot less grief if I choose to listen to regular legit Jpop. And the second reason being the type of music they make and the way they present themselves. Since female idols are mostly marketed to male fans everything they do reflects that. The PVs, the photo shoots, the photobooks, and to some extent the lyrics. And when you choose to like something like that, there's some automatic judgment in that. Even when I say I like the music because I'm a girl and they are girls. They are singing about things girls relate to, therefore I like it. It doesn't really make much of a difference or change anything.
And because of that I usually downplay my love for female idols around my family. I usually only mention liking male idols because that's easier to accept. So, then I also don't ask for, or buy, much female idol merchandise. I can't imagine the backlash if I asked for a photobook. Obviously I'm ok enough in my own sexuality to say such and such looks adorable. Or such and such looks sexy in that outfit, without physically being attracted to that person. However, most people do not feel that way. I feel a little ostracized because of it.
And since I'm a girl you'd think liking male idols would be easier, but it's just as bad. It might actually be worse. And that stems, of course, mostly from the way male idols look. In America, and most countries outside of Asia, the aesthetics are completely different. What the West sees as flamboyant, girly, or in a sense "gay", Asia finds normal and the most appealing. And when you show someone photos of male idols, and they don't understand the aesthetics of Asia, they are obviously going to judge it, and you, based on what they've been taught to be "normal." So, I obviously hear a lot of, "OMG, how is that not a woman?" But whatever, I think Asian guys are attractive, even if people find them to be quote unquote girly. But that's mostly because I like a lot of pretty boy American celebrities. And some American celebrities who are actually gay. (What can I say, I'm weird I guess.) But I like a wide range of different appearances. From Chace Crawford to Jay Baruchel to Lil Wayne. However, none of that seems to matter. And I am still judged for liking Asian guys who are too girly for American standards. I'm sure most of it comes from the logic that, "If she likes guys that look like girls, she must be into girls." Which is obviously not the case. And therefore is the dilemma.
Another stigma is the fact that they are idols. And since the West doesn't have idols, they are compared to the closest thing we have to idols, boy bands and girl groups. Even though that's what idols basically are, they are also completely different. And the whole idol thing in Japan is way beyond boy bands and girl groups. Idols often become widely popular and accepted groups. Because the whole culture of Japan is different. Back in the 90's boy bands and girl groups were for tweens and teenage girls. And any self respecting person who didn't fit into those 2 categories would never dare listen to them without facing massive amounts of mocking. So, of course with that mind set, and it being the general consensus, a person unaware of what idols are all about is going to completely make fun of and look down on it. Which is why I don't tell anyone I like idols. My friends don't really know I listen to idols, they don't even know I have this blog. And it's all because of ignorance and close mindedness.
I also get the stigma because of ages. Both their ages and my own. My age because by American logic is, I'm starting to be too old to listen to idols. My family thinks me liking idols is something 12 year olds do and I should basically stop. Do they care about the average age of wotas? Or that the biggest JE supporters are women in their teens and 40's? Of course not! If they knew that, would they even care? Of course not! Because they've been feed their whole life what is normal and what is not. And to go beyond that is both outrageous and ridiculous. I'm probably going to listen to idols for as long as I like the music. Which is probably years or even decades. And who's to say I can't? No one, really. Yet, that stigma will always be there.
And of course when I say their ages I mean the idols who are young, or young to American standards. Right now I'm 19 and most idols are my age or very close to my age, so it's hardly a big deal. But for some reason my family still thinks it is. Since half of Hey! Say! JUMP are younger then me, my sister thinks it's stupid and immature to listen to them. She doesn't care that 5 JUMP members are older than me or that 4 members are just one year younger than me.
Yet, she listens to the Jonas Brother and thinks it's fine. They are absolutely the closest America can get to idols, music and looks wise. Yes, my sister is 23 and likes the Jonas Brothers. Do you see the hypocrisy and irony in that? Whenever she gets grief for liking them her logic is: "since I'm the same age as the oldest member it's not weird." But me, who is nearly the same age as all of HSJ, am immature. That's just horrible logic. And it's based on nothing more than ignorance. I'm really not looking forward to seeing what will happen when I start to become a little older than my favorite idols.
Obviously, I shouldn't let general ignorance bother me or effect my love for idol music. And I pretty much don't let it. But hearing things like this constantly will take its toll on anyone. Especially someone like me. I like to think of myself as extremely sensitive and I hate being made fun of. Besides that, I am also very defensive and slightly opinionated. So it's pretty obvious why things like this upset me so easily. I just really wish people weren't so close minded all the time because it's absolutely frustrating. And it makes me feel like this stigma of being an idol fan will never go away.