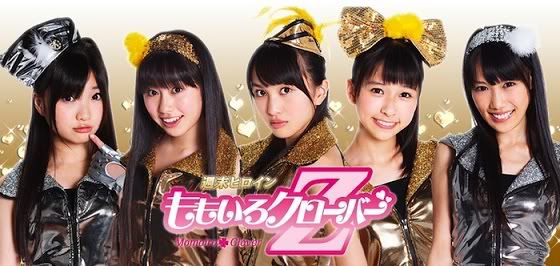 Momoiro Clover Z is going to be releasing 2 singles on July 6th as well as their first album on July 27th. So far we only have information on one of the singles. And that single would be Z Densetsu ~Owarinaki Kakumei~.
During Momoclo's free concert for the

earthquake hit people of Sendai they preformed their new song. Which gives us fans a nice preview of the song.
It's nice to know that even they they lost a member, their style and songs haven't changed one bit. This song is still the super energetic Momoiro Clover that we are all used to. The song has a very heavy anime sounding instrumental. And is absolutely adorable and catchy, which is to be expected from Momoclo. This might be their most catchy and addicting single yet. I can't stop listening to it, I've probably heard it about 20 times now. Momoiro Clover is a group that has yet to dissapoint me.
The lyrics of this song are also really adorable. It's basically a song about Momoiro Clover Z asking fans to keep supporting them. So, in a sense it reminds me a lot of Wasshoi B by AKB48's Team B. But there's also some lines that are about not giving up. And despair and sadness won't last forever. Which is no doubt a nod at the recent earthquake.
There's English subs on the video which is of course an added bonus. There are some translation errors, but they are mostly correct.
You can support Momoclo by purchasing this single from CDJapan by clicking the link below.
Momoiro Clover Z - Z Densetsu ~Owarinaki Kakumei~