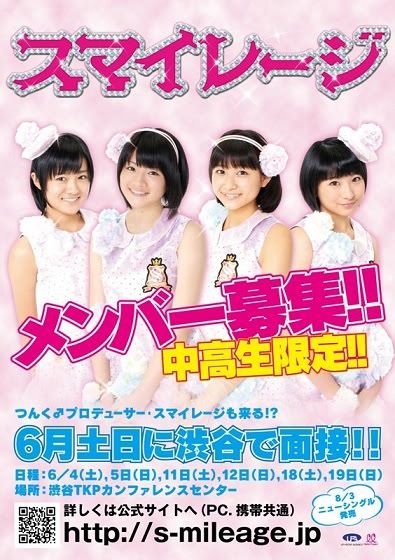 In an absolutely shocking turn of events H!P's youngest group, S/mileage announced they will be holding auditions for their 2nd generation. The audition is looking for girls between the ages of 13-18. The auditions will begin on June 4th and continue throughout the month. June 4th is just 9 days before the deadline of the Morning Musume 10th generation auditions. Since both auditions are in such close proximity to each other, girls are allowed to audition for both groups. However, if they pass both auditions they can only choose one group to join. You can click
here
for the website.
I absolutely could not believe that S/mileage was going to add new members. I was not expecting that at all, I thought they would continue with this line up throughout their career. Much like Berryz Koubou and C-ute. Apparently at one point Tsunku said he wasn
't finished with S/mileage, but I never heard him say that before, so this announcement was quite a shock to me. This will also mark the 2nd stabel group in H!P history to have revolving members like Morning Musume. So far only sub-groups (like Tanopopo, Mini Moni, and Pucchi Moni) as well as short lived groups (like Coconuts Musume and Country Musume) have had more than one generation. When S/mileage was formed I thought about what their future would be like. I thought they were no doubt going to have the same

inevitable fate

as Berryz and C-ute. To me new H!P acts are always bitter sweet. Yes, it's awesome that we get great new music and more variety, but you know that they will eventually have to leave. (Debuting ManoEri at 18 and Kikka at 19, it's almost like why even bother. :/) But having S/mileage have new member auditions gives hope that they could last as long as Morning Musume. Now, there is no guarantee that S/mileage will even have a 3rd generation. But coming from a business and investment point of view, it's the smart thing to do.
There's of course a lot of fans who are against this, or feel that S/mileage is perfect the way they are. And in a sense I can't blame them. I don't think anyone really saw this announcmente coming. But it seems that I always have an unpopular opinion when it comes to change, because I absolutely encourage change and I am absolutely excited for this audition. Of course, I love S/mileage the way they are. They are one of my favorite groups and I think the members fit perfectly together. They each have similar sounding voices that compliments each other's perfectly and harmonize perfectly. But since I'm such a big fan of S/mileage I realize that this is the perfect move for them. This means the group could have longevity. And what would you rather do? Enjoy the currently line up for an undisclosed amount of time, which is most likely anywhere from 6-8 years before Ayaka starts to get too old, or enjoy them for 14 years like Momusu but just with a different line up. I think it's pretty obvious which one is better.
Japan seems to be really interested in S/mileage. They have quite the growing following, and they won best new artist at the 52nd Japan Record Awards. It seems Tsunku and H!P wants their interest and popularity to continue to rise. And holding auditions is a great way to do that. Look at all the extra promoting and interest that has been in Morning Musume lately because of the audition and new members. I also really wonder how many members they will add. It says new member audition, but I'm actually hoping for 2 new members. I also don't get why they are asking for such old girls to join. Momusu is asking for 10 the youngest and 17 the oldest, while S/mileage is asking for 13 the youngest and 18 the oldest. It makes no sense to me. I guess they are just trying to keep all S/mileage members the same age. Do you know who would have made a great S/mileage member? Saho Akari. Oh wait, she was just added to that dance group that doesn't have a future. :/
This audition also really makes me wonder about what their future holds. S/mileage's theme is youth and short skirts. They are adding new members to enchance the youth aspect. So, it seems to me that S/mileage is always going to go after that youth theme. Their singles don't seem to be maturing and adding another young member won't help them mature either. It seems like they will forever be a youthful and playful group. Which I'm ok with, and it would actually be a welcomed change. But it seems like because of that S/mileage members might graduate before the age Morning Musume graduate, to keep up with the theme. That would also be bitter sweet.
Here's the audition announcement video.