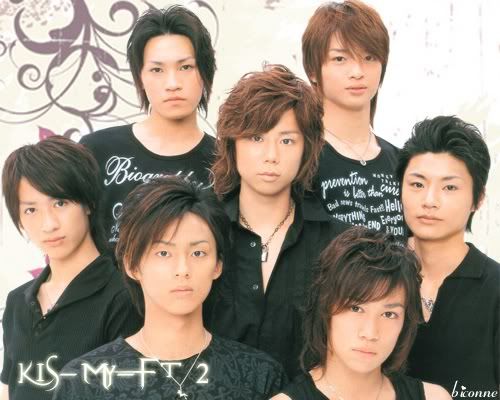 The PV previews for Kis-My-Ft2's debut single, Everybody Go, have just been released. I really wanted to say finally been released, but it actually has been that long. The PV previews came pretty quickly. With nearly a month to the release date. There have been times when the PV previews are only released a week before the release date.
I'm not really liking the look of the PV so far. The PV is just too dark. The whole setting of the PV is shot in a room of glass with this sort of blue, club lighting. And the PV actually kind of hurts my eyes a bit. It's probably because of the constant flashing lights. Despite not being too happy about the lighting the PV does look kind of expensive. Johnny's always seems to have fairly high budgeted debut PVs. The PV has 3 different sets, and 2 different outfits. And luckily only 2/3 sets have super obnoxious and unnecessary flashing lights.
Probbaly the best part of the PV is their close-ups. Mostly because they double as close-ups and what looks like dance solos. Which is actually pretty cool. At least it's a little bit different then the same old dance shot and close-up formula. But the one thing I do hate is that they have to be roller skating in this PV. I know that's their "thing", but I can't stand it. It's just silly, and not in a good way. I get serious secondhand embarassment every time I see them rollerskating.
I still also don't like that there's practically no one is Kisumai that's overly attractive. Taisuke is a little bit cute, but he ruined his hair for Ikemen desu ne. Yuya kind of looks cute in this PV. But that's most likely because of the intense high quality lighting. Well, that and the fact that they keep shoving him in your face every 5 second. I still think Kisumai pretty much look like trolls. Call me shallow all you want. It's the truth. Johnny should send them back to Nilbog already. Oh and, brownie points to anyone that actually gets that reference. XD
PV preview 1
PV preview 2