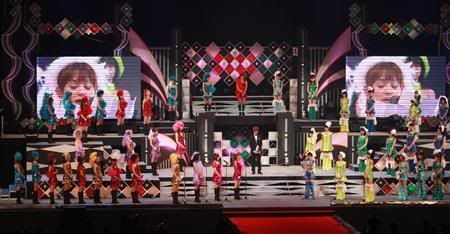 With the H!P winter tour DVDs being released shortly dohhh up has released clips of each concert. As a short preview of Wonderful Hearts Kouen ~Kakumei Gannen~ and Elder Club Koen - Thank you for your LOVE!


The first clip is from Wonderful Hearts and it's Go Girl Koi no Victory.



I was really happy that this song was used for the preview. Go Girl Koi no Victory is one of my favorite Morning Musume songs of all time. I think this performance is really fun and full of energy. This performance really showed that Wonderful Hearts will continue to go on strong after Elder Club.
Their outfits are really sparkly and fluffy. I don't really understand what all the overuse of boa is about. But it's cute none the less. People that really stood out to me were Koharu, ManoEri, Risa, Momoko, and Aika. The green really makes Koha pop, she looks great. I'm not really a fan of Erina. but she is undeniably cute, and she had a lot of energy during this performance. That hat looks really odd on Aika. It makes her look kind of like a mushroom. But a cute one. And Risa, my god does she look gorgeous with that hair or what? Momoko, how can you not notice her? She looks adorable as usual.


The next clip is from Elder Club's final concert and it's Never Forget.



This is a very fitting song to show. I'm sure all of us will never forget Elder Club. Just as expected this is a very emotional performance, pretty much everyone is crying. But this seems to be hitting the older gens extremely hard. Mari, Yuko, Nacchi, and Rika seem to be taking it the worst. This is actually very upsetting to me. I think just now it hit me that they are finally gone. The performance is really great, the singing is spot on. Just what you'd expect from the best of H!P. And my girl KonKon even got a solo line in this song.