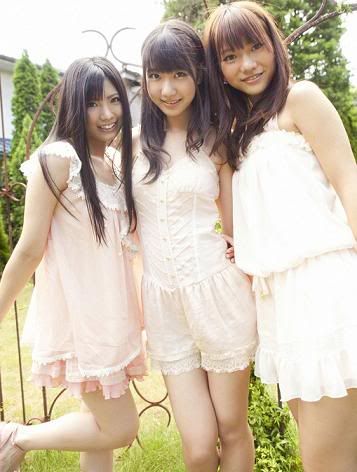 The radio rip for AKB48 sub-group French Kiss's upcoming single, Kakkowarui I Love You, has just been released. As you know this single will be used as the opening for Kashiwagi Yuki's anime Sket Dance.
I am really impressed with the song. It sounds really different then their last 2 singles. Well, actually it sounds a tiny bit like Zutto Mae Kara. But the overall music for Kakkowarui I Love You is amazing. It's a lot stronger and heavier than anything French Kiss has done before. And a huge step away from their single If, which was extremely slow and soft. The song has obvious anime sounding music, and it should as it's the opening for one. But I love the overall sound of the song. Everyone's singing sounds absolutely amazing. And of course Yuki sings a majority of the song. But I don't really mind because Asuka and Aki sound really great. Especially Aki, her cutesy voice fits this song perfectly. This song also reminds me of something H!P would release, which is probably why I like it so much. There's a distinct type of idol music that I like. And this is it.
If you like what you hear you can of course buy this single from CDJapan by clicking the links below.
French Kiss - Kakkowarui I Love You! [w/DVD, Limited Edition / Type A / Jacket A
French Kiss - Kakkowarui I Love You! [w/DVD, Limited Edition / Type B / Jacket B
French Kiss - Kakkowarui I Love You! [Limited Edition / Type C / Jacket C]
French Kiss - Kakkowarui I Love You! [CD+DVD / Type A / Jacket D]
French Kiss - Kakkowarui I Love You! [CD+DVD / Type B / Jacket E]
French Kiss - Kakkowarui I Love You! [Type C / Jacket F]