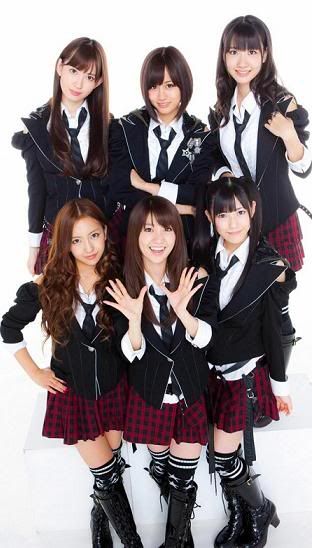 A radio rip for AKB48's upcoming 21st single, Everyday, Kachuusha, has been released. It was released through a teaser for the movie, Moshidora, which this single is being used as the theme song.
At first listen the song is very misleading. It starts out with a very big

instrumental that sounds like some 40's broadway show or a big band song. It also made me think they were going to have another song along the lines of Sakura no Shiori. But that heavy music dissolves after 10 seconds. And the music turns into the music from the beginning mixed with more upbeat and friendly idol sounding music. I absolutely love the song so far. The music is over the top, very intesne, and almost sounds like parade music. I am just really impressed with the power and energy of the song. In a way the song sounds like an amped up version of Ponytail to Shushu. Which, is a little funny since right off the bat this song was being compare to that song.
Singing wise it pretty much sounds like every other AKB48 single, since that's their whole formula. But that's fine. I've grown to love that from them.
My absolute favorite part of the song is towards the end of the chorus when they start repeating everyday. However, I could do without the male voice saying kachuusha. That just the song off a bit. XD
Of course you can buy this single from CDJapan by clicking the links below.
AKB48 - Everyday, Kachuusha [w, Event Ticket / CD+DVD / Limited Edition / Type A
AKB48 - Everyday, Kachuusha [CD+DVD / Regular Edition / Type A
AKB48 - Everyday, Kachuusha [w, Event Ticket / CD+DVD / Limited Edition / Type B]
AKB48 - Everyday, Kachuusha [CD+DVD / Regular Edition / Type B]